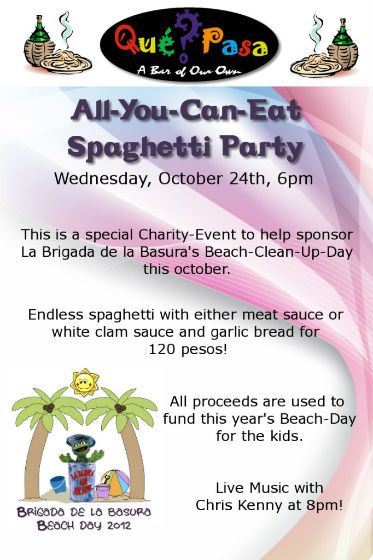 On Saturday, Oct. 27, La Brigada de la Basura will be traveling to Punta Negra for a beach clean up day and party. To help fund this event Que?Pasa is having our All You Can Eat Spaghetti Party on Oct. 24. You can pay at the door-120 pesos or buy the coupon from Cupocity for 100 pesos.
http://cupocity.com/puerto-vallarta/dea ... ss-of-wine
To all interested parties-we need lots of Adult volunteers to come clean, party, and help supervise the children on the beach. We are planning to have an afternoon BBQ on the beach once the cleaning has been completed. Let us know asap if you want to be part of this fun day on the beach.